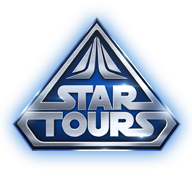 26 years ago today, Star Tours opened to the public at Disneyland...
26 years of touring a galaxy Far, far away.
A great ride that has only gotten better over the years.
Truly one of my favorites.
After announcement last October of the Walt Disney Company purchasing Lucasfilm, it's safe to say we can expect to see a lot more Star Wars from rides, and charactesrs in the parls to films, and television shows. Maybe even a Star Wars land in one of the parks, and A LOT of merchandising. But that to the side, a lot more touring!
and someday maybe an entire theme park...